Attorney General Kamala D. Harris Presents Valor Awards in Los Angeles
Attorney General Kamala D. Harris Presents Valor Awards in L…
Contact: (916) 210-6000, agpressoffice@doj.ca.gov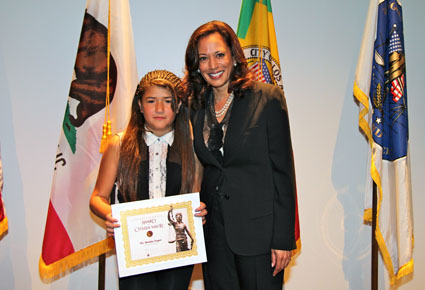 Attorney General Kamala D. Harris and Destiny Lopez, 13, of Long Beach, who received a Citizen Valor Award today
Attorney General Kamala D. Harris today convened law enforcement leaders from Los Angeles and Orange counties for a regional meeting to discuss priorities and share information.
As part of the meeting at the Los Angeles Police Department Headquarters, Attorney General Harris presented commendation and valor awards to peace officers and citizens nominated for their efforts to protect public safety in 2012.
Destiny Lopez, 13, of Long Beach, received a Citizen Valor Award for her brave actions last September when she prevented the abduction of a 4-year-old girl. Destiny and some younger kids were playing in the courtyard of their building when a man appeared and tried to take the child away. Destiny – who was just 4'7 at the time – blocked his path, pushed him to the ground and took the child to safety.
Destiny Lopez, who was nominated by the Long Beach Police Department, received a standing ovation from the dozens of law enforcement leaders in attendance.
A high-resolution version of this photo is attached to the electronic version of this release at: http://oag.ca.gov/news.