Special Agent Supervisor William Hershall Garvey
Special Agent Supervisor William Hershall Garvey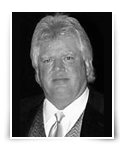 California Department of Justice, California
End of Watch: Saturday, September 24, 2005
Special Agent Supervisor – Bureau of Narcotic Enforcement
Los Angeles Regional Office
On September 24, 2005, Special Agent Supervisor William (Bill) Garvey, while assigned to the San Luis Obispo Narcotic Task Force, was killed in a collision with another vehicle on Highway 126 in Ventura County.
Bill was returning from an enforcement action when the accident occurred. Agent Garvey had served with the Bureau of Narcotic Enforcement for 18 years, and had served a total of 31 years in law enforcement. He had previously served with the Kings County, California, Sheriff's Department, the Douglas, Wyoming, Police Department, and the Rock Springs, Wyoming, Police Department.
He is survived by his wife, daughter, and two grandchildren.