Applicant Agencies
Applicant Agencies
California law authorizes certain governmental and private organizations to conduct criminal offender record information background checks to help determine the suitability of a person applying for a license, employment, or a volunteer position working with children, the elderly, or the disabled. Law enforcement agencies, public and private schools, non-profit organizations, and in-home supportive care agencies are some of the organizations authorized to conduct these fingerprint-based background checks. During the 2014 calendar year, the Department of Justice (DOJ) processed more than 2.1 million applicant fingerprint transactions.
To assist both regulatory entities and applicants, the DOJ's Applicant Background Check Status accepts inquiries and provides a status. The Applicant Background Check Status is located at https://applicantstatus.doj.ca.gov/. The ATI Number and Date of Birth are required to perform a search.
In addition, an email address, appagencyquestions@doj.ca.gov , is available to regulatory entities requiring assistance with:
Rejected fingerprint images;
Name check requests for applicants that have had fingerprints rejected two times;
Background check processing status; or
Complex and/or unique circumstances regarding criminal offender information search requests.
DO NOT use this email address to request copies or duplicate of background check responses. Duplicates or copies of responses are not provided.
Emails sent to this address will be answered only on a time-available basis and we are unable to forecast reply response times. When corresponding with the DOJ, please provide the following information:
Your agency's assigned ORI;
First and last name of the applicant; and
ATI # for the transaction.
DO NOT include any personal identifying information in your email message. To protect the privacy rights of the applicant, email messages that contain personally identifying information, such as the date of birth or social security number, cannot be responded to.
Some transactions require manual intervention as opposed to being processed automatically; therefore, the completed response will be delayed. The need for manual intervention can be caused by many factors, some requiring multiple activities to be resolved. When manual review is required, a delay notice is sent. The next communiqué to be received is the completed response.
Questions or status inquiries originating from the applicant must be directed to agency that made the background check request, not to the DOJ. The DOJ cannot respond to these email messages as the DOJ is not the determining agency.
Below is the basic information an agency needs to become authorized and submit fingerprints.
GETTING AUTHORIZED
Step One (1) – Determine if your agency is authorized to submit applicant fingerprints for background checks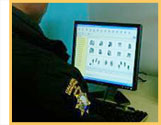 BEFORE any of your potential applicants can be fingerprinted for a background check, you must apply with the DOJ to become an authorized applicant agency unless already designated by law. Please note: The DOJ will only approve an organization if authorized in statute. The authorizing statute will specify the level of service you are authorized to receive (i.e., California criminal history information ONLY or California and Federal criminal history information).
Step Two (2) – Submit the appropriate authorization request forms
The following are specific authorization request forms for various applicant agencies including, but not limited to, youth organizations, human resources agencies, school contract employers and in-home supportive care providers.
Step Three (3) – Determine if your agency is required or wants to receive Subsequent Arrest Notifications on applicants once they are employed or licensed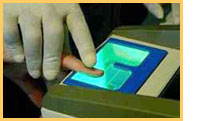 Applicant Agencies may apply to receive subsequent arrest notification information for individuals for whom criminal background checks were requested. Subsequent arrest services must be requested in writing and are not retroactive for individuals printed prior to receipt of the subsequent notification agreement.
Subsequent Arrest Service Contract, pdf
Step Four (4) – Wait for the authorization to be approved
You will be notified in writing when you can begin sending applicants to be fingerprinted.
SUBMITTING FINGERPRINTS
Once you have been approved, you may begin sending applicants to be fingerprinted.
Step One (1) – Choose the correct form to use
A Live Scan operator will not take fingerprints if the applicant does not present one of the following forms:
Click on the following link for the instructions on completing these forms:
Form 8016 & 8016A Instructions, pdf
Step Two (2) – Fill in your Agency's information on the Request for Live Scan Service (BCII 8016 or 8016A) Form.
All applicants must have a completed Request for Live Scan Service Form to present to the Live Scan operator or they cannot be fingerprinted. PLEASE ensure all of your agency's information (i.e., Agency ORI, Mailing Address, Mail Code, etc.) is accurately entered onto the form which you provide the applicant. Any erroneous information submitted may cause delays or result in the applicant having to be fingerprinted again and fees paid a second time.
Step Three (3) – Send your applicants to get fingerprinted
Once you have provided the necessary form to your applicant, he/she can determine where to be fingerprinted. Fingerprinting services are available at most local police departments, sheriff's offices or any public applicant Live Scan site; or you may have an agreement for services with a particular site. To find the sites nearest to your agency and a listing of their rolling fees, see Public Live Scan Sites
Please note: The applicant must present valid photo identification when being fingerprinted. Expired identification information will not be accepted.
Step Four (4) – Retrieve the results
Once the applicant submission is received and processed, the DOJ will respond to the applicant agency either electronically via a Secure Mail Server or via U.S. mail.
While most Applicant Agencies SHOULD receive results of background checks electronically from the California DOJ, some must receive reports by U.S. mail in a process that can take a minimum of seven days. As such, please allow a minimum of seven days before making a status inquiry.
Delays
Most of the time, results are released to the applicant agency within three business days. Delays can occur however, and can be caused by a number of things including: poor fingerprint quality, the existence of criminal information in the applicant's record, the existence of a manual fingerprint card (whether criminal or applicant) in the applicant's file, birthdates before 1920, and incorrect data on the submission. An agency should NOT assume the applicant has criminal information on their record simply on the basis of a delay notification.
Due to the on-going fiscal crisis and hiring restrictions within State Government, effective Monday, November 08, 2010, the California Department of Justice (DOJ) no longer has the resources to take phone calls or process follow-up inquiries from regulatory agencies who have submitted a criminal offender record information search request through the DOJ or the Federal Bureau of Investigation (FBI).
If a requesting agency does not have results yet and digital Live Scan fingerprints were submitted, the agency can use the Applicant Background Check Status to check on the submission. You will need the following information: (1) applicant's date of birth; and (2) the 10-digit Automated Transaction Identifier (ATI) number that appears at the bottom of the Department of Justice form requesting Live Scan fingerprint background checks. The ATI number always appears in the following sequence: 1 LETTER; 3 NUMBERS; 3 LETTERS and 3 NUMBERS.
Step Five (5) – Remit the appropriate fees
California and Federal background checks are processed for a fee. Some agencies pay the processing fees and others require the applicant to pay these fees at the time they are fingerprinted. If your agency pays these processing fees, you have the option of (1) paying the fees directly to the Live Scan operator or (2) establishing a billing account at the time of your authorization, in which case DOJ will invoice your agency for the processing fees.
(NOTE: The processing fees do not include the fingerprint rolling fee charged by the Live Scan operator; the fingerprint rolling fee must be paid directly to the Live Scan operator.)
Applicants outside the State of California who are fingerprinting for an agency authorized by the DOJ, must be printed on a fingerprint hard card (FD-258). Please contact the local law enforcement agency for fingerprinting services. After the fingerprint hard card has been completed, it must be returned to the authorized agency for review. The authorized agency will ensure that the card is filled out completely and accurately in areas such as the billing number, agency information, and fees. The authorized agency will then mail the fingerprint card, appropriate transmittal form, and any fees to the DOJ.
If your agency elects to pre-pay, please complete and submit the Transmittal Form - Prepaid (Cash) (JUS203), pdf along with your hard cards and payment. If your agency has a billing number, please complete and submit the Transmittal Form (Billed) (JUS 204), pdf along with your hard cards and DOJ will invoice your agency for the processing fees.
For a complete listing of the processing fees associated with criminal background checks, please see: Applicant Fingerprint Clearance Fees, pdf
If you have established a billing account with the DOJ, you will receive a billing invoice on a monthly basis either electronically or via U.S. mail. If you would like to pay your billing invoice by credit card, please utilize the following form: Credit Card Transaction Form, pdf
If you establish a billing account, you will electronically receive a Monthly Billing Detail Report. The Billing Detail lists the applicants and the associated charges for invoice reconciliation purposes. You will receive the Billing Detail electronically through the Secure Mail Server System (SMSS). (NOTE: This SMSS mailbox has a different User ID and Password than the SMSS mailbox used to receive applicant fingerprint results.) The Billing Detail will remain in your SMSS mailbox for 90 days. To request a Billing Detail older than the 90 days, the agency must call (916) 227-3870, select option #1, follow the prompts, and provide the necessary information. DOJ will send the requested Billing Detail to your SMSS mailbox.
If you find a discrepancy on your Billing Detail, you may request a credit using the CJIS 9010 - Live Scan Credit Request Form, pdf or call (916) 227-3870, select option #4, follow the prompts, and provide the necessary information. DOJ will research your request and notify you whether or not your credit was approved.
IMPORTANT: Regardless of any potential discrepancy, you must pay your monthly invoice in full upon receipt.